A totally new class is coming Bramley Village Hall
Starting on Friday 9th March, POUND is a completely new type of exercise giving a full body workout.
Instead of listening to music while exercising, you make the music!  POUND combines cardio, conditioning and strength training with yoga and pilates-inspired movements.  A little something for everyone, POUND is designed for all fitness levels. The perfect atmosphere for letting loose, getting energised, toning up and rocking' out!
First class Friday 2nd March, 9.30am-10.15am Bramley Room, Bramley Village Hall.
Booking is essential.
Please call Vicky on 07486 313355
or visit https://www.facebook.com/Poundfitwithvicky.
Next Saturday Night At The Movies 24th March – Goodbye Christopher Robin

GOODBYE CHRISTOPHER ROBIN gives a rare glimpse into the relationship between beloved children's author A. A. Milne and his son Christopher Robin, whose toys inspired the magical world of Winnie the Pooh. Along with his mother Daphne, and his nanny Olive (Kelly Macdonald), Christopher Robin and his family are swept up in the international success of the books; the enchanting tales bringing hope and comfort to England after the First World War. But with the eyes of the world on Christopher Robin, what will the cost be to the family?
Next Saturday Night At The Movies: Murder On The Orient Express Saturday 28th April
Bramley Art Exhibition                Saturday 14th and Sunday 15th April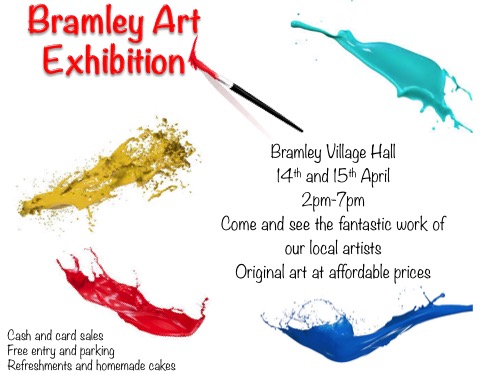 Zumba Class – Mondays 6.30-7.25, Bramley Village Hall, Main Hall,