Brocas Hall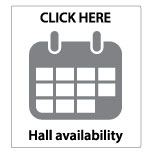 A newly purpose built hall, with large patio doors opening onto the green.  Very light and airy, great for small/medium functions such as clubs, meetings and private parties.  Comfortable chairs and tables are available for your use.  Small kitchen with microwave and fridge. Capacity for 50 – heating available. The approximate size of the hall is 75sqm.
Pavilion
Is situated on Clift Meadow Park with a lovely view of the Meadow from its patio doors and windows.  Is a small/medium function room with seating capacity for 60.  It is heated and has its own supply of chairs and tables for your use .It is well suited for clubs and committees, training workshops and parties. The Pavilion has a large well equipped kitchen/food preparation area with a hatch to serve from to the main room with a shutter you can open or close if you wish. Changing facilities.The approximate size of the hall is 58sqm.
Both halls have disabled toilet, wheelchair access, adjacent to playing fields.  Large car park.
If you have a large function, The Pavilion and Brocas Halls can be hired together at the same time, where a discount can be offered.
Clift Meadow Area1
Located adjacent to Clift Meadow Pavillion, this outside area is suitable for many outdoor events.
Great for parties in the summer along with bouncy castle and outdoor games.
You must book the Clift Meadow Pavillion separately if you require access to the hall/kitchen.
Hire these halls for as little as £10/hour.