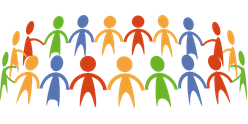 Bramley Village Hall  Bringing People Together
2020 Vision – a strategic plan for the new decade
What will our community look like in 2030? Will it still be growing with new housing, more families, a bigger primary school, more shops and amenities, and improved services? The Neighbourhood Plan envisages that the village will grow:
In 2029 Bramley will be an attractive village with a strong historic character, an unspoiled rural setting, excellent and conveniently located community facilities, a range of high-quality homes fulfilling local needs, safe and convenient access to transport services and green spaces, and good opportunities for locally based employment.[1]
By 2025 the village will exceed 2000 homes with a population of over 6,000 people, and the potential for further growth as development along Cufaude Lane in the south of the Parish comes on stream. With this expansion in mind, what will residents of the village expect of their Village Hall?
The Village Hall
The Bramley Neighbourhood Development Plan sets strategic aims to maintain and enhance the range of community and recreational amenities, services and facilities appropriate for Bramley. To achieve these aims, the Trustees of the Village Hall, along with other organisations in the community, will make use of funds secured through agreements with building developers to make improvements to community facilities and will encourage and support initiatives for new community groups and activities.
During 2019, we used funds provided by developers alongside grants from both the local authority, Basingstoke and Deane, and the County Council to refurbish and extend the Village Hall. We increased the floor space available to users with the provision of an additional meeting room and improved access, along with modern amenities designed to meet the needs of all in our community. More remains to be done, including improvements to external drainage and resurfacing the car park and these projects will be pursued during 2020. We anticipate that footfall will increase and may grow on an annual basis in step with the expansion of the Bramley community. The key challenge will be engagement with the community to ensure that the Trustees are proactive in meeting the needs of the community; communication will be critical in this respect.
Communications
We have established a broad range of communications across the Bramley community to ensure that people know what facilities are provided by the Village Hall, have advance notice of events and are aware of opportunities to engage with the Trust to create and deliver new meetings, events and activities whether community based or delivered by commercial partners. Having successfully launched a 'Young Trustee' scheme in 2019 to involve younger volunteers in the work of the Trustees, we will maintain the role of at least one 'Young Trustee' with specific responsibility for communications and we will ensure that we make better of social media platforms and other on-line applications to promote Bramley Village Hall.
Kick-Start
A perennial challenge we face is that people in our community have ideas for groups and events but neither the time or space to develop those ideas into something concrete and lasting. As part of our strategy we will be innovative and supportive, offering partners in the community the space to develop ideas, to experiment and trial events or new groups without worrying about room hire costs. We can offer help and mentoring, sharing our experience and contacts across the community. If the new group achieves momentum, then we can seek an appropriate hiring charge or work with the group to secure funding to underpin their activities. In these circumstances we will be prepared to accept a degree of risk, i.e. loss of potential hiring income while a new group gets established.
Finances
The Trustees will continue to operate Bramley Village Hall in keeping with its charity status and will continue to meet the objectives of the original donors of the land on which the Hall sits:
To provide and maintain a village hall for the use of the inhabitants of the Parish of Bramley, Hampshire without distinction of political, religious or other opinions. This should include it's use for meetings, lectures and for other forms of recreation and leisure with the object of improving the conditions of life for inhabitants of the Parish.
The Trustees will ensure that the Hall's operations generate sufficient income to meet running costs and immediate maintenance requirements. Planned refurbishments and replacement of furnishings will be dependent on grant aid, fund-raising efforts and donations. The additional space and improved amenities delivered from the extension and refurbishment project may encourage more commercial entities to utilise the Hall for training, conferences or other events; this may provide a useful income stream, but we will be careful not to plan works dependent on such income.
Equality and Diversity
The Trustees remain committed to a policy of treating all staff, users and partners equally irrespective of their ethnicity, age, gender, religion, disability or sexual orientation. Discrimination and victimisation will not be tolerated. The Trustees will set an example by ensuring that its membership continues to be diverse and will strive to recruit younger and more ethnically diverse volunteers.
Resilience and Sustainability
Amongst the key benefits delivered by the refurbishment and extension project are more modern, energy efficient systems and more effective insulation which will reduce our overheads and maintenance costs over the long-term. Low energy LED lighting is used in all new and refurbished areas with movement sensors on new toilet and exterior lights helping to further reduce energy consumption. We need to build on this approach and the appointment of a Trustee with responsibility for Sustainability will be a long-term goal.
Trustees
We will continue to work to attract more and younger prospective Trustees and volunteers to support the work of the Committee. Succession planning and resilience will be important to ensure that the trustees can sustain their work and that knowledge and experience is shared. We need to ensure that we have Trustees and volunteers who are confident in using the latest technology to communicate and to run our business efficiently. Environmental impact and the sustainability of what we deliver will become increasingly important as the UK strives to develop a carbon-neutral society and we need to ensure that we play our part in meeting those objectives. The Trustees will continue to engage with other charity organisations within our community and across Hampshire to share experience and knowledge whether bi-laterally or by working with umbrella groups such as 'Action Hampshire'.
Summary
As Trustees our strategy going forwards may be summed up as:
We will be proactive in meeting the aspirations of our community;
Communicate effectively with our community through a broad range of channels;
Ensure we achieve sufficient income to sustain the Hall and maintain it to meet appropriate standards, including Health & Safety requirements;
Develop plans for improving sustainability over the long-term;
Encourage diversity and resilience within the Trustees and with our users and partners; and
Share our knowledge and supportgenerously in the spirit envisaged by our founders.
Gareth Jones
Gareth Jones
Chairman, Bramley Village Hall Trust
Chairman@bvht.org.uk
[1]For details of the Bramley Neighbourhood development Plan please see http://bramleyndp.org.uk/documents/final-document-versions/